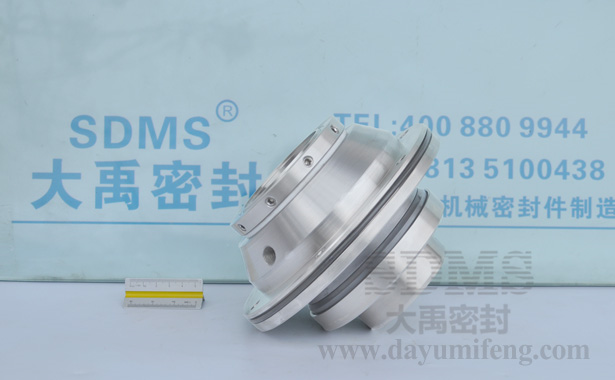 For over 40 years,Sdms Seal Co., Ltd. has developed a new range of international mechanical seals for the rapid repair of pumps,agitators and compressores. We produce inch & metric sizes mechanical shaft seals, single cartridge mechanical seal,dual cartridge mechanical seal, mixer seals,agitator seals, reactors seals, mechanical seals for pump shafts, double cartridge seals for equipment revolving. Our products can replacement eagleburgmann seals 26-HRS2/100-A1 in eagleburgmann industries.We have certificate of API Spec Q1 which will add to our product reliability.For product dimensions and more Information, please contact us.

Model No.: 26-HRS2/100-A1 Style: mechanical seals cartridge seals

Material
Sealing ring : SiC/SiC
Other metal parts : SS316
Auxiliary seal : FKM

Design features
Single cartridge mechanical seals replacement eagleburgmann mechanical seal 26-HRS2/100-A1
of burgmann seals catalog. Assembly flextures design,we have preseted it before delivery,once installed, only you must remove limit block with red color painting,it is convenient installation and replacement.

Recommended Applications Pumps and Rotating Equipment
Warman pump

Packaging Details:standard export carton/plywood box or according to the requirement.Delivery Detail:normally 15-30 days, according to the quantity.

Sdms Seal Co.,Ltd. es un proveedor completo de dise?o, fabricación y reparacion de sello mecanico para bombas,agitadores y compresores.Fabricamos cierres mecánicos de resorte unico, cierres mecánicos de resortes multiples, cierres mecánicos de fuelle, cierres para fuelle metálico, sellos de ballesta para bombas, compresores, mezcladores, reactores,agitadores y otro equipo rotativo.Las marcas de sellos que reponemos diariamente son John Crane,Eagle Burgmann, Chesterton,Roplan,Flowserve,Sharpe, Andritz, Ekato, Grundfos,ITT,KSB,Lightnin,Sulzer,Warman, Flygt,Katrex,Aflas,AES,Sterling,Vulcan entre otros.Tambien hacemos reparación de sellos mecánicos de todas las marcas con rapidez y garantía. Estamos en condiciones de cerfificar API Spec Q1,CE, ISO9001,lo que agregará confiabilidad a nuestro producto.Por dimensiones y mayor informatión,contáctenos.

Nuestros materiales
Comportamiento químico, temperatura, viscosidad y presión de vapor, etc factores para elegir sellos mecánicos.Los sellos mecánicos pueden ser fabricados con diversos materiales.
Cuerpo del sello : aceros inoxidables304,316,316L y 2205 etc.
Cara rotatoria: hastelloy, carburo de silicio ,grafito y ceramica etc.
Asiento estacionario: hastelloy, carburo de silicio,grafito y ceramica etc.
Elastómeros: vitón, aflax, buna, propileno y silicona etc.



view:2008 lable: 26-HRS2/100-A1,eagleburgmann,burgmann mechanical seal catalogue,burgmann seals catalog,eagleburgmann industries, eagleburgmann mechanical seal, eagleburgmann seals, Chemical industry Food and beverage industry Pharmaceutical Petrochemical Circulating pump Chemical process pump Chemical pumps Oil pump Burgmann