Modern industrial production process, the mechanical seal is a kind of commonly used spare parts according to the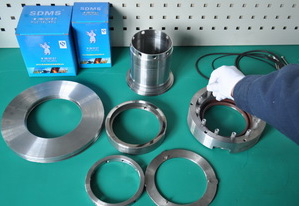 running condition,need regular maintenance for new and replacement, down the failure of mechanical sealing products, commonly used as a waste product processing. This is a long-term cost for the owners of enterprises. Especially for high value products imported mechanical seal, has become one of the main cost of enterprise operation.
Sdmsseal engineers, based on the condition of understanding as well as to the failure of mechanical sealing product disassembly, inspection, can judge the failure of mechanical seal products, whether also has the repair value. Make the greatest efforts to create value for customers.
Sdmsseal usually through the following points failure judgement mechanical seal product whether it has value to repair:
  ● Product value
  ● Friction parts in good condition
  ● Overflowing parts in good condition
  ● Assembly parts in good condition
  ● Appearance parts in good condition

Any questions or advice on products to repair, please contact our customer service :